Our referral program is a great way to spread the word about solar energy and a local company that is powering what's next.
In the process you can earn cash.
Refer Friends in Washington State and Oregon. Make Money. Make a Difference.
While we focus on high quality installations and top-notch customer service, we rely mainly on word of mouth advertising from our fans and customers to drive business our way. This is where you come in…
How does it work?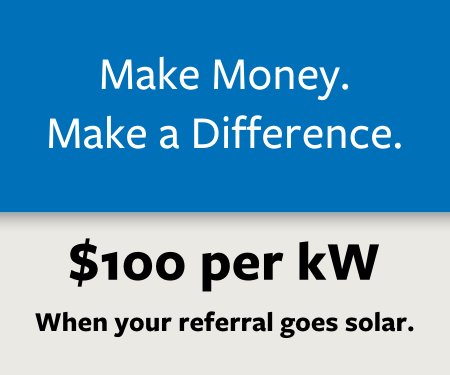 You and your friend can receive up to $500 each just by spreading the word about the benefits of going solar and how easy our company is to work with! At the same time, you'll be helping to lower our collective environmental footprint, securing our energy independence, and bolstering a growing green economy.
Have your friends contact us, and make sure they mention your name when they first talk to us. It's that easy!
How much can you and your friend earn?
On average, our customers install 26 panels rated at 280 Watts each, totaling over 7 kW, which results in a check to you for $500 and a check to your friend or neighbor for another $500. Use this money to "speed up" the payback of your solar energy system, put it toward your child's college fund, or take your significant other out for a nice dinner. There is no limit on the number of customers you can refer our way, so why not start now?
If you have any friends, neighbors, or family members living in Washington or Oregon who may want to become solar powered, please pass along our information. We are extremely grateful for any and all of your support.